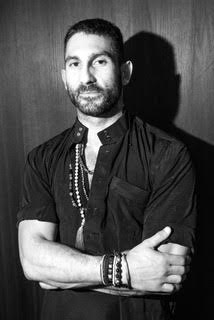 CARLOS JADRAQUE
Head of the Creative Department at Oscar de la Renta
Growing up in Spain, Carlos Jadraque was obsessed with magic. The house was littered with ropes, decks of cards, and magic boxes. If you'd asked him in those days what he wanted to be when he grew up, he'd tell you without batting an eye: "A wizard." In a way, that's exactly what he's become.
An intellectual and geographic nomad with more than 15 years of design experience, Carlos has crafted a career providing design and consulting for best-in-class clients in the worlds of luxury, fashion, and architecture. He has worked with the likes of Ralph Lauren, Gensler, Tommy Hilfiger, and Lladró, and has taught students of interior design and product design at the Isituto Europeo Di Design in Madrid.
Carlos started out studying at the Design Academy Eindhoven in The Netherlands. Upon graduating, and after a brief stint at Y&R Amsterdam, Carlos returned to Spain and entered the world of interior design, working for the firm Cuarto Interior and in the studio of acclaimed interior designer Tomas Alia. After moving stateside in 2010, Carlos held positions as an Art Director at MA3 and as a Product Designer at MZ Berger, working with companies like L'Artisan Parfumeur, Pierre Cardin and Salvatore Ferragamo. He then moved to Condé Nast as a Senior Art Director, where he dialed his art direction, digital voice, and branding talents for luxury clientele.
He is the Head of the Creative Department at Oscar de la Renta.
When he isn't making magic, he can be found spinning records in a handful of New York City clubs, exercising an ear just as honed as his eye.
 What did you most enjoy about the IDA judging process?  
Feeling the enthusiasm and the fresh innovative proposals from designers all over the world
How did you feel about the quality of the students' entries? 
I was greatly surprised by the number of great entries. The level was very high
How much influence does your own personal taste influence your decisions in judging a design award? 
I tried to be as neutral as possible and not let my own personal taste affect my voting. When something stands out and deserves an award, it becomes universal.
What did you learn from this experience, and is there anything that you learned that you will take back to your respective business? 
To keep pushing and dreaming. This experience is an eye opener and an injection of creativity.
What are you working on, what is in the pipeline for you for 2021? 
A lot of interesting new projects aside from fashion. I have a few creative direction projects working with musicians that will involve graphic design, video and of course fashion.